Rolls-Royce challenges yachting with digital onboard Crystal Blue
UK-based engineering company Rolls-Royce unveils the 62-meter Crystal Blue concept yacht that boasts many innovative digital solutions, such as remote navigation or a smart dynamic positioning system that could only be seen on commercial vessels before.
"Crystal Blue has been designed specifically to show how new technology can meet the yacht sector's increased demand for higher performance, greater operating ranges and increased levels of guest comfort, without impacting the environment," says Oscar Levander, vice president of Innovation at Rolls-Royce.

One of the key novel features is the use of an intelligent dynamic positioning system, which automatically controls two so-called azimuth thrusters – marine propellers that rotate 360° around the vertical axis for a better maneuverability than a fixed propeller and a rudder system can provide – and a TT1100 bow thruster. This technology is common with support vessels that have to maintain their position next to oil platforms. In turn, when installed on the yacht, they allow her to remain in the right spot on the water without an anchor or "follow the sun", so that guests can make the most of it while lounging on the deck.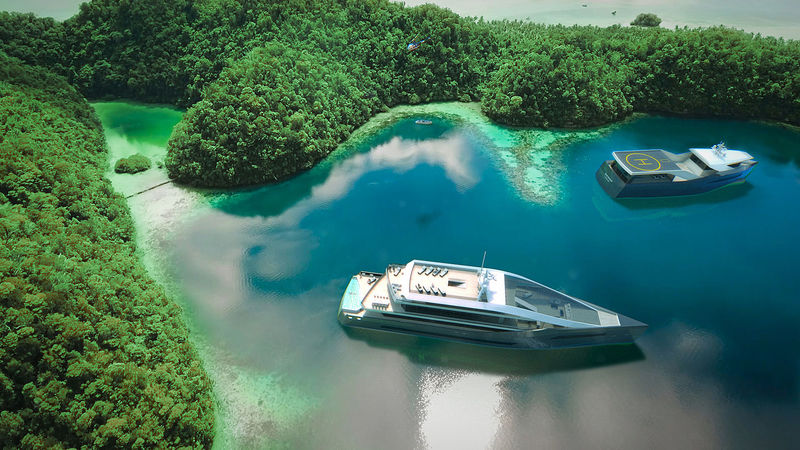 Crystal Blue also has the control center relocated below the bow. Equipped with display screens, sophisticated sensors and cameras, the internal bridge enables the crew to operate the boat with no need of front windows. This innovation frees up the forward part of the superstructure to let guests enjoy the panoramic view that is traditionally reserved for the captain.
What's more, Rolls-Royce has incorporated a "safe room" where guests and crew members can seek refuge in the event of attack. Once inside, the crew can override the controls and navigate the yacht remotely or authorize a shore-based center to pilot the vessel. Apart from ship intelligence, Crystal Blue notably features a hybrid propulsion system based on LNG fuel and battery power.
Rolls-Royce claims that burning LNG has clear advantages over diesel oil for the yacht sector, as it is cleaner and helps pass stringent emission standards for navigating in ecologically sensitive areas. Nevertheless, only commercial vessels have enough space to carry LNG bunkering infrastructure. To this purpose, Crystal Blue is escorted by Blue Shadow support vessel that acts as the LNG bunkering barge. The additional fuel capacity increases the mothership cruising range to the remarkable 4.400 nautical miles.